Back to top
In deze handleiding wordt uitgelegd hoe u uw schijfruimte kan controleren.
Step 1
Via de Inloggen pagina op de HostYou website komt u op uw Control Panel terecht met een lijst van alle domeinnamen die u bij HostYou heeft.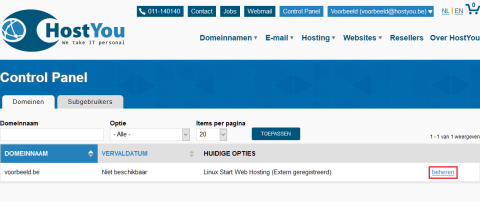 Achter de domeinnaam waarvan u de schijfruimte wil controleren klikt u op beheren om bij het Dashboard te komen.
Bent u niet op deze pagina? Klik dan bovenaan het scherm, links van uw gebruikersnaam, op de knop Control Panel.
Step 2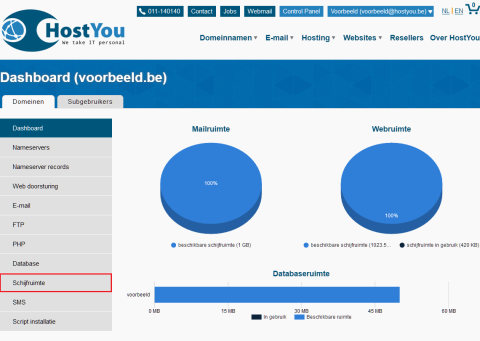 Hier ziet u een samenvatting van uw gebruikte mail-, web- en databaseruimte.
In het menu aan de linkerkant klikt u op Schijfruimte om uw mail- en webruimte te controleren.
Step 3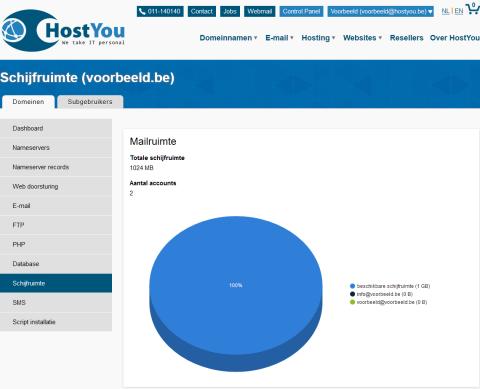 Hier ziet u uw totale en beschikbare schijfruimte, zowel voor mail- als voor webruimte.
U ziet hier ook meer informatie zoals het aantal e-mailaccounts en hoeveel ruimte iedere account verbruikt (Mailruimte) of de grootte van de logbestanden (Webruimte).
De totale beschikbare ruimte hangt af van uw Hosting pakket.