Back to top
In deze handleiding wordt uitgelegd hoe u uw wachtwoord kan aanpassen.
Step 1
Via de Inloggen pagina op de HostYou website komt u op uw Control Panel terecht met een lijst van alle domeinnamen die u bij HostYou heeft.

Om uw wachtwoord aan te passen, beweegt u de cursor over uw gebruikersnaam in de linkerbovenhoek en klikt u op Mijn account in het menu dat tevoorschijn komt.
Step 2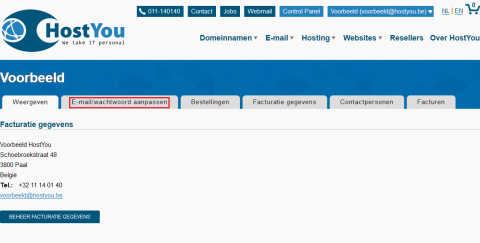 Hier, op het tabblad Weergeven, ziet u een klein overzicht van uw account. Om uw wachtwoord aan te passen, gaat u naar het E-mail/wachtwoord aanpassen tabblad.
Step 3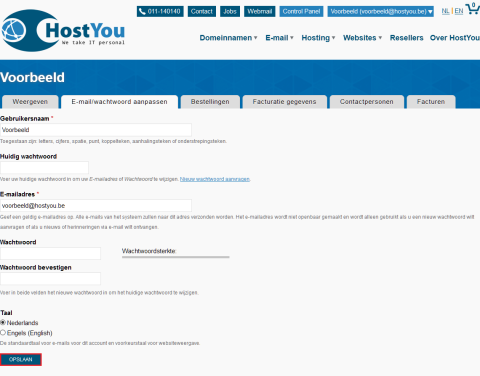 Hier ziet u uw huidige gebruikersnaam en e-mailadres.
Om uw e-mailadres of wachtwoord aan te kunnen passen, moet u eerst uw huidige wachtwoord ingeven.
Klik op de knop OPSLAAN wanneer u klaar bent om uw gegevens aan te passen.
U kan via deze pagina ook een Nieuw wachtwoord aanvragen door op de link te klinken onder het vak Huidig wachtwoord.